New coaching software turns data into insigths
MYLAPS partners up with Studio2 offering coaching software to get extensive training insights: Get the most out of your training data and say goodbye to your stopwatch!
The newly launched CoachSUITE turns MYLAPS training data into valuable (live) insights for sports coaches and athletes. The coaching software was developed by Dutch sports tech company Studio2 together with MYLAPS, offering this tool to all coaches, tracks, and federations that strive to get the most out of their training sessions. Initiator Ronald Stolk is an experienced software architect and a former talent coach of the Dutch national team in Triathlon and Open water swimming. Co-owner Robert Slippens is a 4-time Olympic track cyclist and former national cycling coach of the Dutch federation.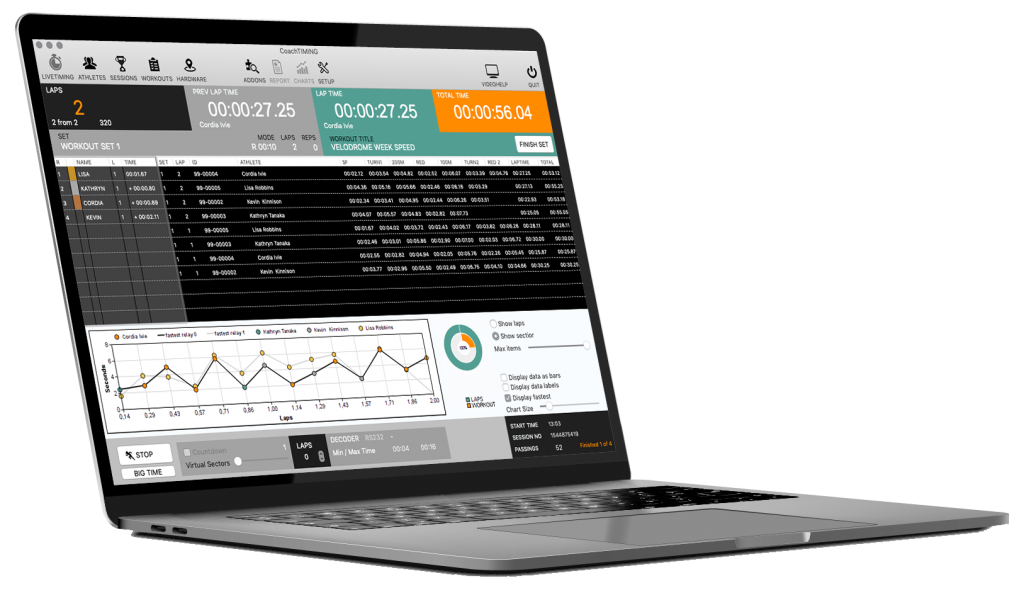 CoachSUITE can be used in all cyclical sports where timing matters, like cycling, athletics, swimming, speed skating, and horse racing. The tool is compatible with all MYLAPS ProChip decoders and shows insights on a laptop, tablet, smartphone, or screen along the track. Lap and section times of multiple athletes can be used for immediate feedback or analysis after the training. CoachSUITE is a plug-and-play tool: all you need is access to the local MYLAPS decoder network – no timing staff required!
CoachSUITE Webinar
Got excited and want to learn more about CoachSUITE? Join our free webinar! Do you want to learn how CoachSUITE works and how you and your organization can benefit from the possibilities? Join our 60-minutes webinar on Thursday 10 June, 4:00 PM CEST.